Cryptocurrencies aren't every investors cup of risk, but anybody can appreciate a little blockchain exposure in their folio. That's where bitcoin stocks can play a role. If you're like me, you are probably thinking into the future and like it or not but crypto is here to stay.
The question I always ask before investing in any stock is, what will the future look like. And with the growth of cryptocurrency the answer right now is a world that is potentially on the edge of adopting a digital currency system.
So if you are looking to find some stock's that are geared towards the growth of cryptocurrency then look no further.
1. Nvidia 
Simply put it, NVIDIA produces the GPU processors that cryptocurrency miners use in their crypto mining rigs. Nvidia (NASDAQ:NVDA) is your best bet to capitalize on a potential boom in cryptocurrencies in the future. More sales = higher stock price. Pretty simple.
On top of this, NVIDIA is a fundamentally strong company ( Stock Analysis 101: Fundamental Analysis)  that literally does it all.
Whether it's developing data-center equipment, deep learning and artificial intelligence, and driverless technologies, Nvidia is a true dynamo and a all in one power house of a company.
But as one of the top bitcoin stocks, they play a critical role in the blockchain economy. To condense an extremely long and complicated explanation, cryptocurrencies are actually "reward tokens" for verifying data blocks in the blockchain.
Receiving these tokens, though, is a tough endeavor. Typically, only the first verifier, or "miner," gets the reward.
Crypto-mining is a computer-intensive process. To make mining profitable, miners need the fastest processors. It's no surprise, then, that NVDA produces some of the best processors available. A wise investor would simply do this simple equation, what product is needed in the future? Processing Units and Graphics cards… winner winner, NVDA.
Of course, being the best isn't cheap sitting at $246 a share ( Update: As of September 4th 2018 $280) buy any dip's and reap the benefits.
2. AMD 

Bitcoin is mined using high-end specialized hardware packages called ASICs that perform no other function than mining Bitcoin. Creators of newer cryptocurrencies like Ethereum and Dash wanted to make it so that everyone could mine cryptocurrencies, not just centralized mining facilities with specialized hardware in parts of the world with cheap electricity. They changed their hashing algorithms so that anyone with a modern computer and graphics card, like those made by AMD and Nvidia, could mine their coins.
AMD's Radeon graphics cards are preferred by cryptocurrency miners because they offer superior hashing performance to those produced by Nvidia. By targeting their products toward miners, they have significantly expanded their potential market size by creating products that can be sold to high-end computer gamers and to cryptocurrency miners.
There are plenty of other reasons to like the company as well. AMD's revenue is now steadily growing again after years of not being able to compete with rival Intel. Analysts keep raising their price targets on the stock and their financials are looking better quarter-by-quarter.
Current Price: $25.17
3. IBM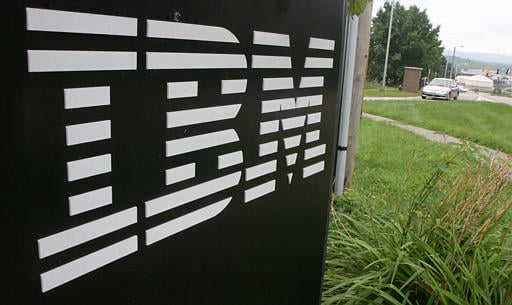 Many of us think of International Business Machines (IBM) as a relic of times past. They no longer produce personal computers and largely sell specialized technology service to Fortune 500 companies. This might not be exciting to most, but IBM has been able to introduce and scale new technologies into the Enterprise like no one else.
IBM is now focusing on democratic applications of the blockchain, allowing its customers to create networks, setup governance rules, invite members into the network and validate transactions. It has launched a consultancy for blockchain technologies teaching companies how to best use the technology and create their own blockchain networks. It has also launched a "blockchain accelerator" program to help guide businesses through the technical and legal ramifications of running blockchain networks.
IBM has also launched an open-source collaboration initiative called Hyperledger that hopes to expand the use of the blockchain in all industries. Hyperledger already has more than 130 member companies in industries spanning financial services, manufacturing and technology all working together to create a distributed ledger framework that is standardized and open.
Current Price: $146.48

4. Paypal (PYPL)
Those who either hate or are otherwise scared of directly investing into bitcoin, should highly consider Paypal (NASDAQ:PYPL).
As a digital-payments processor, Paypal is one of the most relevant bitcoin stocks available in the market.  PayPal has taken the charge and adopted the crypto platform early on.
In 2014, the company closed a deal with three bitcoin-payment processors: BitPay, Coinbase and GoCoin. This enabled PayPal merchants to accept customer payment with cryptocurrencies. Not only that, management affirmed their belief in the "blockchain economy." They bluntly stated that their bitcoin interest "runs more than skin deep."
Plus, I'm loving PayPal's huge upside potential as a stock. Despite this year being a tough one for several companies, PYPL shares are up nearly 14%. This follows a nearly 83% return in 2017. Clearly, momentum still exists for this company and shows little sign of slowing down, especially as the ecommerce sector heats up.
While other bitcoin stocks fail to provide much excitement, PYPL has the ideal mix between stability and profitability. At the current valuation of $83, it shows a great value buy for a best stock of 2018 to hold.
Update: Paypal's current valuation is $93.13 as of 4th September 2018
5. Square (SQ)
Ok now for a giant in the making. A true titan competing in the payment processing space and putting itself up against stripe & paypal.
From an investor's perspective, entrepreneur and all-around genius Jack Dorsey (Founder of Twitter Anyone) also leads Square (NYSE:SQ), which in my humble opinion is a true disruptor and is a HOT buy in 2018 especially at $66 and rising.
Update: Square's current valuation is $88.64 as of 4th September 2018
To get you u to speed Square's point of difference is offering these quirky little credit-card swipers to business owners which is both cool and a talking point at the cafe. Everyone want's to be seen with the new cool tech, and even though it's competitor Paypal has a similar concept, it's not as square as the angles lead you to believe ( Journalism greatness I know .. )
And how is SQ not a perfect complement to bitcoin? Cryptocurrencies have put all interested parties on a level playing field: if you want to invest in this sector, you can do so on your time and at your leisure. In the same manner, Square's payment device and app provide small businesses with tools previously accessible only to larger companies.
Ultimately, I see both Square and bitcoin charging forward. A few months ago, Bloomberg reported that more than half of its customers are willing to accept bitcoin.
That's all I need to hear.
Be sure to put SQ on your list of must-watch bitcoin stocks.
6. Taiwan Semiconductor Manufacturing Company
Another burgeoning cryptocurrency mining stock that isn't exactly keen on divulging the percentage of its sales tied to mining is Taiwan Semiconductor Manufacturing Company(NYSE:TSM).
Last week, TSMC reported strong first-quarter operating results that included a 6% increase in sales from the prior-year period, as well as its single-best sales month in history in March ($3.5 billion). C.C. Wei, TSMC's president and co-CEO, specifically said that "these results were mainly driven by strong demand from high performance computing such as cryptocurrency mining."
In addition, Coindesk notes that Chinese mining hardware maker Bitmain, a client of TSMC, unveiled its next-generation, ASIC (application-specific integrated circuit)-based, Ethereum mining equipment called Antminer E3 in early April.
The unit, which has a list price of $800, is set to ship in July. Bitmain's need for ASIC chips to satisfy demand for Antminer E3 may very well be the reason TSMC experienced a surge in sales during March and in Q1 as a whole.
However, the downdraft in bitcoin and other crypto token prices in 2018 has certainly cast a shadow on industry demand moving forward. Having previously forecast sales growth of 10% to 15% in 2018, TSMC also lowered its sales growth expectations to 10% for the current year on uncertainty in the crypto mining space.
Like NVIDIA and AMD, TSMC's share price may be adversely impacted if cryptocurrency prices continue to sink.
7. HIVE Blockchain Technologies
Now, if you want as much cryptocurrency mining exposure as possible without actually running your own mining operation, there's the over-the-counter exchange-listed HIVE Blockchain Technologies (NASDAQOTH:HVBTF).
This publicly traded cryptocurrency mining firm is currently in the process of ramping up its operations in Sweden and Iceland, and envisions generating approximately $150 million in annual revenue from its operations. Sweden and Iceland offer commercial kilowatt-per-hour electricity prices that are well below the European average. Plus, these are relatively temperate nation's, which may aid in keeping mining equipment cool.
Now here's where things really get interesting. Despite being a crypto mining start-up, HIVE Blockchain already turned a profit in its most recently reported quarter. Sure, the $149,724 in profit was negligible and resulted in $0.00 in earnings per share, but that profit was derived from just over $3 million in quarterly sales. Presumably, HIVE could generate more than 10 times this each quarter when fully ramped up.
The wildcard here is what'll happen to cryptocurrency prices.
You see, HIVE Blockchain isn't necessarily selling all of the Ethereum, Ethereum Classic, and ZCash tokens that it's mining. It hangs on to some of these coins in the hope that they'll appreciate in value. Thus, investing in a company like HIVE gives an investor direct access to crypto mining margins, as well as the movement in a handful of popular digital currencies.
Like the other companies above, there are also plenty of risks. Given that its business is entirely devoted to crypto mining and lacks sales diversity, investors would need to understand that if virtual currency prices fall considerably, their investment in HIVE could dive. Furthermore, in order to raise capital, it wouldn't be surprising if HIVE Blockchain diluted existing investors with bought-deal offerings. These are the risks that stock investors would have to endure if they wanted direct access to a publicly traded cryptocurrency mining stock.
Will it work? Place your bets and find out.